UPI Implementation: The Approaches of Regulators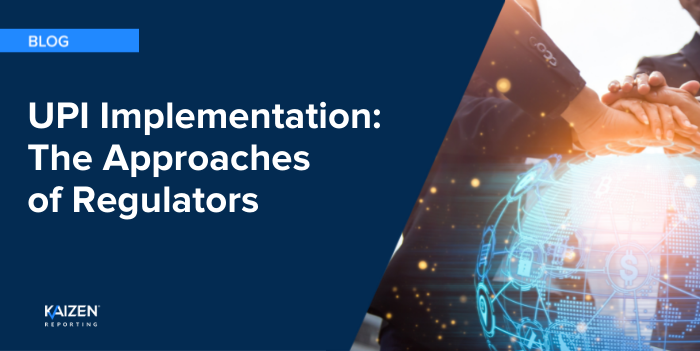 Throughout 2020 and 2021, regulators across G20 jurisdictions have undertaken revisions to their derivatives reporting rules, with an eye to greater standardisation across jurisdictions and the implementation of lessons learned. Regulators' experiences with derivative trade data is behind the drive to improve the quality of data available for systemic risk assessment.
While many consultations, reports, and publications have been devoted to the CPMI-IOSCO Critical Data Elements (CDE), and understandably so, given the fine-tuning required to ensure they fit every regulator's needs, the harmonised Unique Product Identifier (UPI) is also central to ensuring that derivative products are fully identified in an efficient manner.
Unique Product Identifier (UPI) Reference Data System
The UPI identifies derivative products at a level of detail less specific than the OTC ISIN but more specific than the CFI Code. Once the UPI system is live, trade data reports across jurisdictions will all link to a single reference data library for product data, simplifying the work of regulators in accurately determining the details of traded derivative products. The Derivatives Service Bureau (DSB), which maintains the OTC ISIN library, is responsible for the development and implementation of the UPI reference data system, which is expected to be widely available for use from July 2022.
The ROC recently hosted presentations by the DSB on the current status of UPI development to promote awareness among market participants globally. APAC and North American regulators were in attendance to set out how they anticipate UPI implementation to fare once participants are able to register and access the UPI system.
There were a number of core takeaways, as well as a range of comments on how the UPI timeline will intersect with planned and ongoing regulatory changes.
Key Takeaways
Regulatory staff encouraged market participants to engage with the DSB on gaining access to the UPI system as early as possible to ensure that they can fully link it into their reporting workflow in time for compliance.
There is confidence in the DSB's implementation timeline and regulatory staff were comfortable setting out their own actions in anticipation of a July 2022 go-live date.
UPI implementation for derivatives reporting obligations is expected to take place for the first jurisdictions in Q3-Q4 2022.
At present, outside the EU and UK, the requirement to connect to an external system to generate and obtain product identifiers is an unfamiliar step in the derivatives reporting process. Participants globally should start work early to ensure that they are ready once UPI obligations start rolling in.
For a summary of different global regulators' approach to UPI implementation, please click on the tabs below.
Recordings and slides from the ROC-DSB presentations on the UPI are available here, including comments from the PBC, JFSA, ASIC, and HKMA staff at the start of the first session and comments from CFTC, SEC, OSC, and BCSC staff at the start of the second session.
Kaizen Reporting helps financial firms reduce costs and improve the accuracy of their regulatory reporting across multiple jurisdictions including MiFIR, EMIR, Dodd Frank, SFTR, and other G20 regulations. We also provide automated monitoring and reporting of the global shareholding disclosure rules. Get in touch for a conversation about your reporting challenges with one of our regulatory specialists.